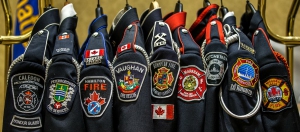 April 22, 2016 – Camaraderie, brotherhood and the passing on of knowledge were themes discussed at the second annual Honour Guard Convention held in Niagara Falls, Ont., in February.
Close to 60 firefighters from 14 departments took part in the convention – more than double the number of participants in the inaugural year.
Organizer Jan-Michael Reyner, a member of the Kitchener Fire Honour Guard in Ontario, said the event aims to celebrate the tradition of honour guards and to lend a hand to new departments.
"There are a lot of departments that are just getting involved in honour guard and they're just trying to get one established and there is no where to go to do that, whether it be learning about your uniform set up, your marching, the tools required," Reyner said.
Guest speakers included Tim Bohr, a 10-year firefighter with the Westbury Fire Department in New York, as well as Jordan Paris, a 14-year firefighter with Brampton Fire and Emergency Services, and John Clare, Brampton district chief and a director with the Canadian Fallen Firefighters Foundation.
The speakers emphasized the role of comradeship, passed on tips and lessons learned from years of service, and discussed the annual CFFF memorial service.
The convention included a uniform display and attendees were encouraged to bring a complete honour guard uniform and other items from their departments.
"I had all these tables set up to display things, and when I left the room at about 3 p.m. – the venue started at five – there were only two tunics hanging there," Reyner recalled. "When I came back down at 4:55, the whole room was full and they had actually used the tables that were supposed to have our food on for more display. It was a proud moment for me to see that there were so many more people who were that enthusiastic about bringing their stuff and showing it off."
Kitchener Fire Department Deputy Rob Martin said the only component missing at this year's convention was sponsorship from vendors.
"There's a lot of honour and tradition that goes into the fire service and the honour guard is really the tip of that spear representing us," Martin said. "When a vendor shows up and supports something like that, it's supporting the entire fire service."
Reyner hopes to grow the convention to include honour guards from departments across North America and is working on forming an organizing committee. The next convention will be held in February 2017.
Learn more about the honour guard convention at www.hgconvention.com
Powered by WPeMatico